When conducting a Search within the Internet, results will now include documentation classified for public release from all Parliament South Australia Committees.
Additional content allows further filtering of the results based upon various facets, including Content Type, House, Committee Type, Members and Parliament. The ability to increase the number of Results displayed per page and Relevance are also available.
Example: Searching for COVID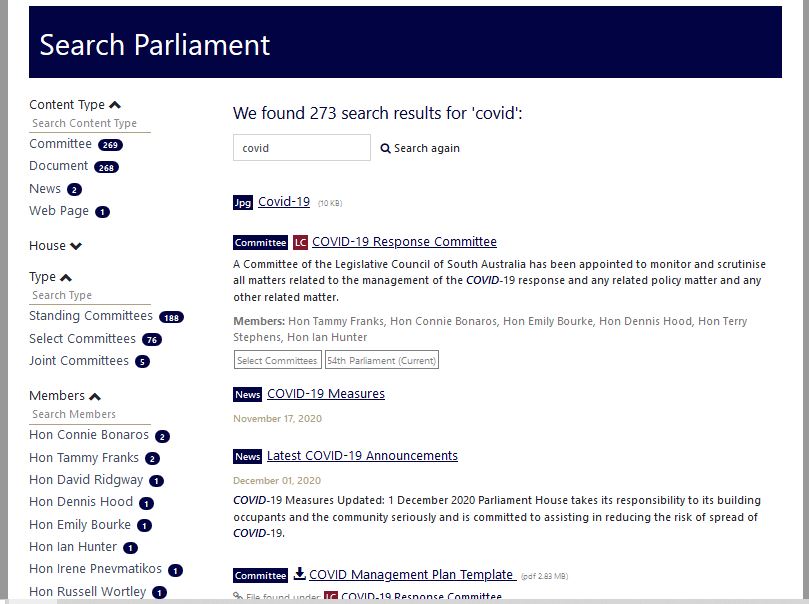 Searching for "covid" brings up a number of items, which can be classified or filtered by the Facets on the left hand side of the page. As you can see Content Type is identified in this expanded view of the Facets, along with the Members associated with the returned search results, so filtering is easy to apply.
However, at this stage we do not cover complete Boolean search, that is a future Release.
As an example, let us say we are looking for a paper submitted to Environment, Resources and Development Committee about Barossa Regional Planning that was reviewed/actioned by Michelle Lensink.
If we enter "Barossa Planning" then we retrieve 5281 results

If we enter "Barossa Planning" and select filter by "Lensink" in the Members filter, then we retrieve 4 results

If we enter "Barossa Planning Lensink" and select filter by "Standing Committee" in Type, we retrieve 4012 results.
The follow example explains the querks relevance sorting capability:
If we type in "Womens Prison Redevelopment" we obtain 2844 results

When, by default, they are sorted by Relevance, the first page is generally about the redevelopment of the Adelaide Women's Prison.

However, when we change the Sort To Date – Latest First, the first page includes content about eCigarettes in prisons and redevelopment projects for Nurioopta Primary School, Tonsley & Kangaroo Island.
This is due to the Relevance sort displaying the documents that most fit the combination of search words, regardless of currency. At this time you cannot sub-sort those results by date (this is planned for a further Release).
Sorting by Date cancels the relevancy logic (only one sort possible), thereby each search word is searched for separately.
Please use the Download Icon to the left of the Document Name to download documents directly from the search. Some devices may block downloads if a Pop Up Blocker is enabled. Please disable these prior to attempting any downloads.